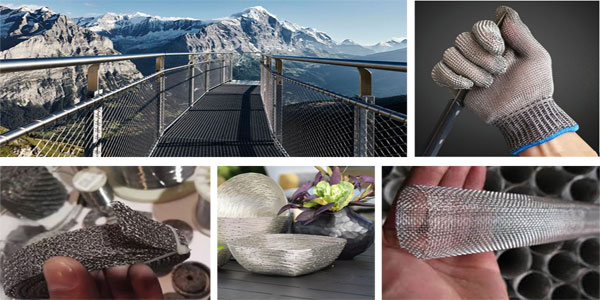 Stainless Steel Wire Mesh is one of the most widespread use of stainless steel wire.
Over the years, the terminology in the industry has evolved concerning the three following terms "wire mesh", "wire cloth" and "wire fabric". In today's marketplace, these three wordings are used interchangeably and refer to the same product, with "wire mesh" or even "mesh" as the most prevalent from the purchasing and usage standpoints.
Mesh made of stainless steel wire may be woven, knitted, welded depending on the applications and the wire size. Woven stainless steel is the most prevalent mesh. Woven wire products cover a wide variety of weaving patterns depending on the final end-use. Main patterns:
Plain weave, where each warp is going over and under successive weft wires, ensuring maximum weaving stability and thus more accurate mesh openings
"Dutch" weave, similar to plain weave, with warp wires thicker and closer to each other: this type of mesh is used in industrial filters and separation apparatus
Twill Dutch weave : a combination of twill and Dutch weave, for a stronger wire cloth ideal for fine filtration
Weaving after crimping the wire, for screening in mines, construction, etc…
Thus woven stainless steel wire mesh encompasses a large range of wire sizes from 0.04 mm for the finest woven "wire cloth" to 3 to 4 mm for the industrial mesh. End uses cover a very large array from separation, sizing, conveyors, very diverse types of filtration, fencings, screenings, interior/exterior architectural decoration, etc…
Knitted stainless steel wire mesh is another very common type of mesh, obviously mostly with finer wire sizes. The loop structure gives knitted mesh springiness or two-dimensional flexibility, allowing it to be crimped or compressed to alter characteristics for specific applications, for instance using the high mechanical damping properties of such mesh. Stainless steel knitted mesh can be processed into compressed, pleated or pad forms to allow liquid or gas flowing through. Knitted stainless wire mesh is widely used in auto parts and engineering applications such as filters, mufflers, catalytic converters blanket mesh. Another large area is the field of demisters and separation engineering.
Of course, the stainless steel wire mesh of all types capitalize on the corrosion resistance of stainless steel. Main grades are austenitic 304/304L and 316/316L depending on the corrosion specificities of the usage ; also occasionally ferritic 430 (demisters, decoration).
Find stainless steel wire for sale at Sadevinox
At Sadevinox we offer a wide range of stainless steel wire products for you to choose from. Find small or large quantities available in our online store or chat to one of our sales consultants about the options available to you. Need assistance with selecting the correct stainless steel wire for the job? Just let us know. For more information and advice on our range, contact us at Sadevinox via This email address is being protected from spambots. You need JavaScript enabled to view it. or telephone today.